INTRODUCTION
Mongolia has a lot of Higher Education institutions, creating competition among them. In order to take part in the competition, every Higher Education institution must be able to maintain the consistency of the quality and always improve it. One of the best ways to improve the quality of management in Higher Education institutions is by implementing a Quality Management System. The quality management system ISO 9001: 2015 is an international standard and well known that it can help manage and improve the quality of Higher Education. Mongolian university of science and technology (MUST) started to implementing quality management from April of 2018.
The purpose of the quality management system of MUST is to support the achievement of the university's strategic goals and assure the high quality of the university's operation and outcomes. The quality management system supports the university administration and development towards its vision. Quality management is incorporated into the normal activity of the university with the underlying idea of continuous improvement in accordance with the Plan – Do – Check – Act/Study cycle. The quality management system covers the four main functions of the MUST: scientific research, academic education, and societal interaction and support services of the university.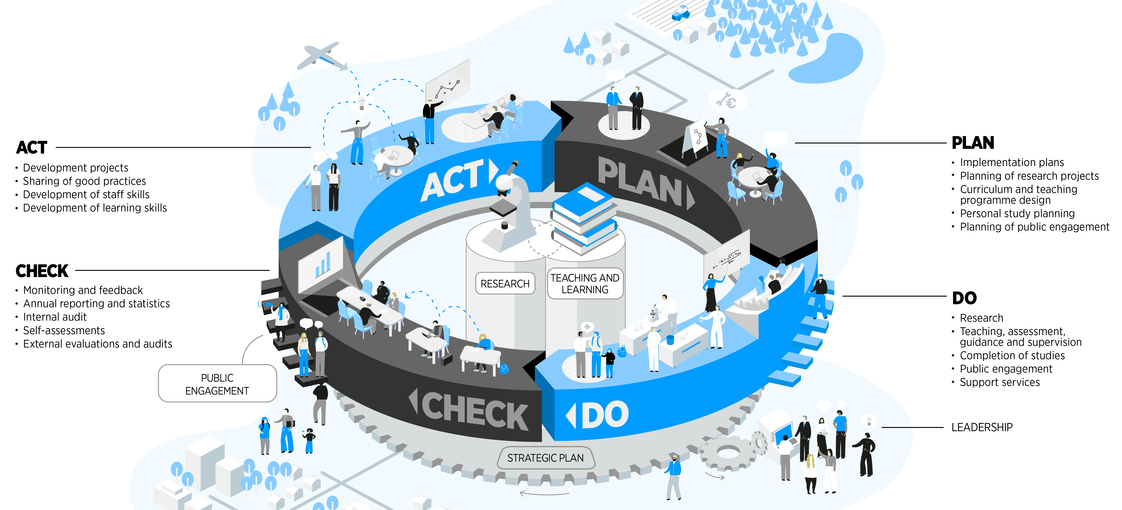 QUALITY POLICY OF MUST
"MUST shall provide education services in line with international standards and become the university which prepares leaders to build a knowledge-based society."
QUALITY OBJECTIVES /2019-2022/
Align the management, organization, and operation of MUST with international standards
Develop the policy documents of MUST
Enhance the quality and accessibility of the learning process
Promote Human Resources Training and Development
Enhance consumer satisfaction
Expand mutually beneficial cooperation
QUALITY PRINCIPLES
Focus on the expectations and needs of learners, their parents, employers, and employees
Create leaders' values ​​and models and promote them within MUST
All staff is involved in the Quality Management System of the University and their competency is developed
Apply the processing ways and approaches to make the process understandable and interrelated (sequential)
Performance is monitored and continuously improved
Ensure all decisions are based on data and information analysis
Prefer mutually beneficial cooperation
Be responsible to society
Ensure educational products and services are accessible and equally.
Provide the safety and security of information
Adhere to educational ethics
Quality manual of MUST